Our Story
Our story begins with a passion – a passion for the greatest mountains in the world: the Himalaya. As guides and adventurer, Sonam Sherpa has spent many years exploring the Himalaya's magical valleys and ancient ways, setting the standards for mountaineering and climbing these magnificent peaks.
Taking this desire to share his homeland and his passion with others Sonam and his brothers set up a small trek and expedition company, Thamserku. This was nearly 30 years ago: Yeti Mountain Home is part of the now large and thriving Thamserku group. Although many things have changed in the intervening years the same founding principles of respect, sharing and responsibility are still what guide and drive us today.
Insider's Himalaya
Our Himalaya
As Sherpa we have a role as guardians of the Himalaya – they are our homeland and the dwelling places of our gods, goddesses and sacred spirits.We thought we would share some of our knowledge and ideas with you… so you can be part of the picture too.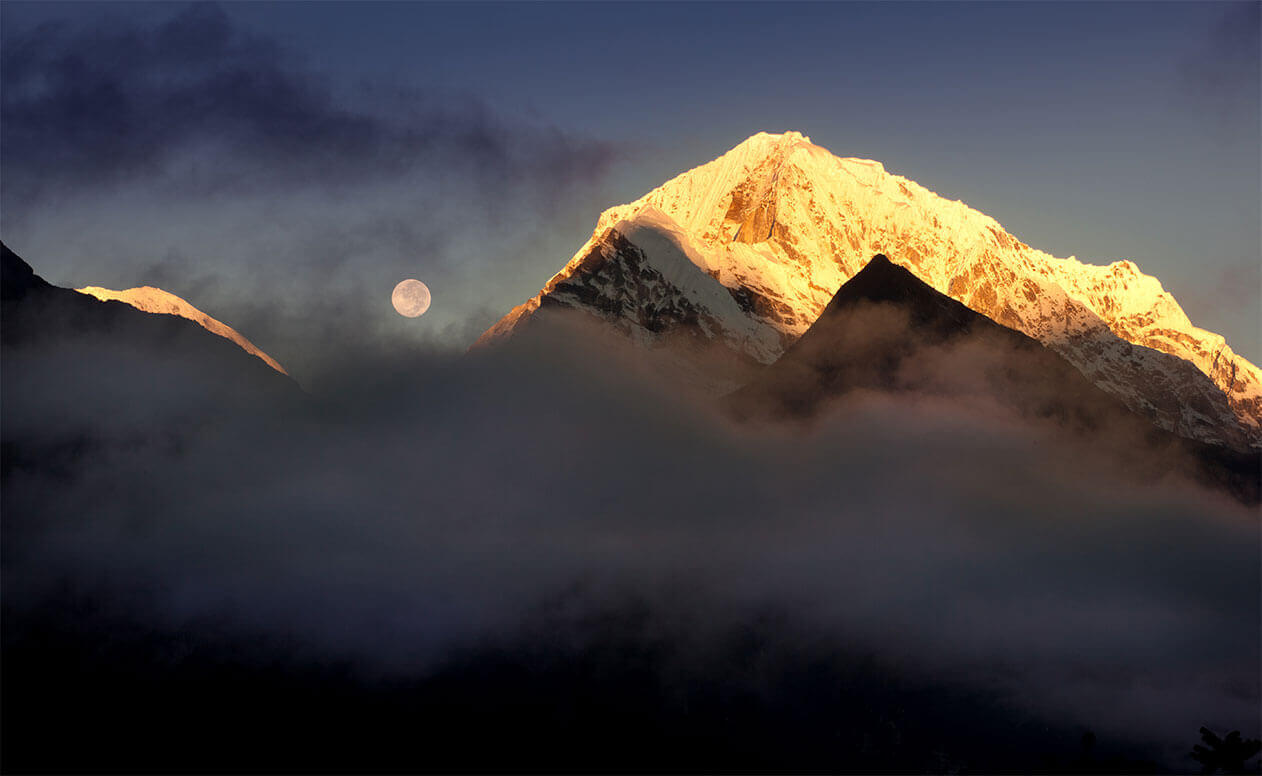 What's in a name?
To the ancient Indians they were 'the thousand-peaked mountains' or 'the measuring rod of the world.' The Hindus scriptures know them as Devabhumi, 'the abode of the gods' while the Buddha called them Pabbataràja, 'the lord of mountains'. However the name Himalaya comes from old Sanskrit: Hima (snow) alaya (dwelling) and means "abode of the snows".
With much of the high country laying above the permanent snow line at around 5000m, this youngest of mountain ranges, is indeed a glistening array of white peaks and passes. In fact the entire Himalayan range holds the third largest deposit of ice and snow in the world, after Antarctica and the Arctic. With about 15,000 glaciers storing about 12,000 km3 (3000 cubic miles) of fresh water it is the water source for about one third of the world's population supplying many major rivers such as the Indus, Ganges, Brahmaputra and Yamuna.
The entire range is dotted with lakes large and small including sparkling Tilicho in the Annapurna massif - one of the highest lakes in the world. A couple of years ago Thamserku was part of a team attempting to set the world's highest diving record at Tilicho, a very chilly but rewarding experience. Have a look at the documentary.