Facilities
20 spacious and cozy rooms
En-suite bathroom with hot & cold running water
Electric mat to keep your bed warm
Dining room serving delicious and fresh cuisine
Leisure Room
Small In-house library
Mini Museum
Credit card payment facility
Green house
Well stocked bar
24 hours service
Wifi
Flight Service
We also provide flight service. We issue tickets to the guests who haven't got their tickets. We also assist our guest in proponing or postponing their tickets to Kathmandu.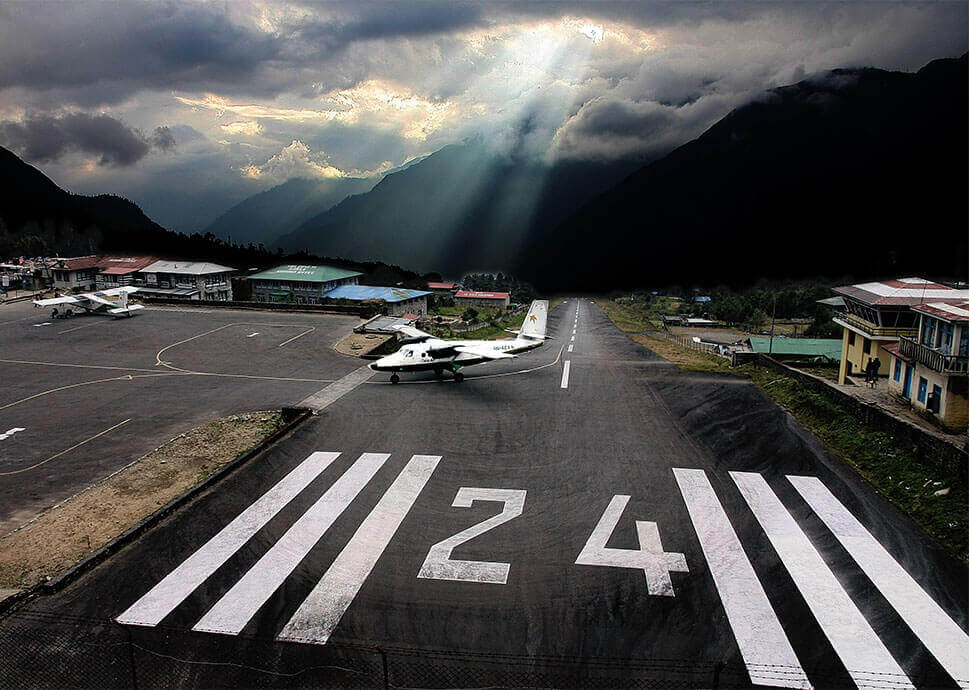 Know the Area
Lukla is a town in the Solukhumbu District of Sagarmatha Zone north-eastern Nepal. It is located within the Khumbu area at 2,860 meters (9,383 ft) Latitude : 27 41' 10'' Longitude : 86 43' 50''where most people visiting the Himalayas near Mount Everest start their journey.
Lukla means place with many goats and sheep, one is not likely to see many roaming around these days. It is mainly inhabited by the Sherpas and has a population of around 1200. It houses the oldest Sherpa monastery built around the start of 19th century by Lama Kyamgon-Deltsen- Donden. Born in 1777 AD, his ancestral home was in Lathetar in West Sikkim. By our initiative this historical Gompa is now being renovated to its former glory.
Tenzing-Hillary Airport, also known as Lukla Airport, is a small airport, In January 2008, the airport was renamed in honor of Sir Edmund Hillary and Sherpa Tenzing Norgay, the first persons to reach the summit of Mount Everest. There are daily flights between Lukla and Kathmandu during daylight hours and in good weather. Although the flying distance is short (30 to 40 Minutes), weather differs raining in Lukla while the sun is shining in Kathmandu.
The paved tarmac is only accessible to helicopters and small fixed wing short takeoff and landing (STOL) aircraft such as Twin Otters or Dornier Do 228. There is about a 700-metre (2,000 ft) angled drop at the end of the runway to the valley below. The airport is contained within a chain link fence and patrolled by the Nepal armed police or civil police around the clock.
Pasang Lhamu Nicole-Nicky Hospital in Lukla is established in honor of first Nepalese women Pasang Lhamu Sherpa to scale the Mount Everest and first Swiss mountain guide Nichole Nicky. Pasang Lhamu Sherpa, first Nepalese women to reach the top of the mountain on April 22nd, 1993 via South ridge was killed while ascending from the peak. The hospital is providing service to mountaineers along with 17 thousand locals of Chaurikharka, Juving and Walk village development committees.
The Lukla Dumche which was started in 1995, takes place from the seventh to the fourth month. During the Dumche, Ralpa Dorje's twisted iron rod is displayed at Thangme and the image of Shakyamuni Buddha and the seven grains at rimejung.