Features
20 spacious and cozy rooms
En-suite bathroom with hot & cold running water
Electric mat to keep your bed warm
Dining room serving delicious and fresh cuisine
Leisure room with fire chimney
Credit card payment facility
Well stocked bar with chimney
Free WIFI access
Message & well-being treatments
Spectacular view of the Himalayas
Flight Service
We also provide flight service. We issue tickets to the guests who haven't got their tickets. We also assist our guest in proponing or postponing their tickets to Kathmandu.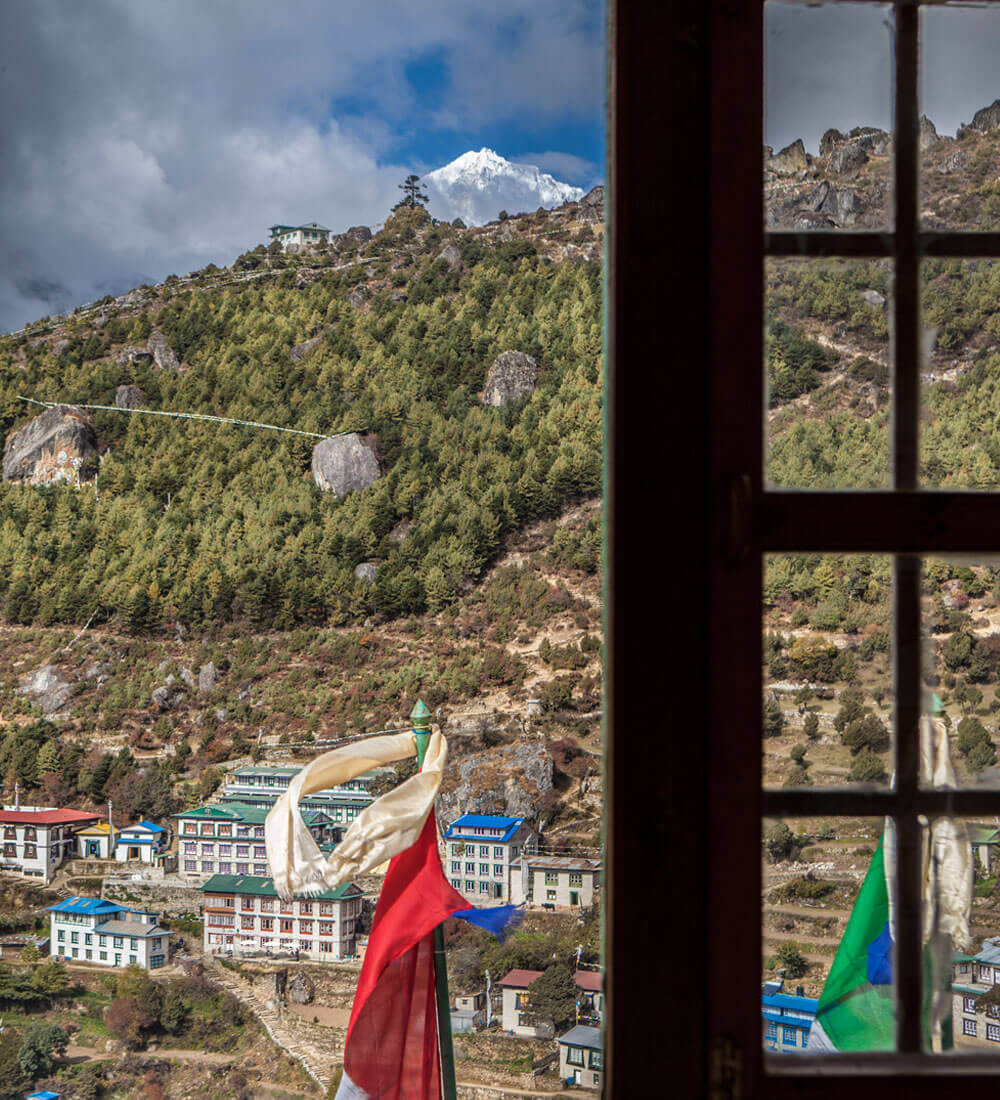 Know the Area
Namche Bazaar is a Gateway to Mount Everest and also known as Capital of Khumbu Valley. It is located within the Khumbu area at 3,440 metres (11,286 ft) Latitude : 27 48' 271'' Longitude : 86 42' 550'', populating the sides of a hill. Namche is the oldest trade centre for the Khumbu region. At the time of the 1991 Nepal census it had a population of 1647 people residing in 397 individual households.
West of Namche is Kongde Ri at 6,187 metres (20,299 ft) and to the east is Thamserku at 6,623 metres (21,729 ft). Namche has a permanent population of around 800. On Saturday mornings, a weekly market is held in the center of the village. People from all around the Namche area come to sell their wares, to locals and to visitors alike. The market usually starts around sunrise and begins to break up around 11 am. Also, there may be a daily Tibetan market where clothing and cheap Chinese consumer goods tend to be the main articles for sale. Tibetan merchants have traditionally come to the market by way of high passes through the Himalayas; however the Chinese currently disallow this passage.
A good acclimatisation walk from Namche Bazaar goes to Khumjung valley and Kunde Hospital. Khumjung Valley is situated near Mount Khumbila, 3970 metres from sea level. A monastery in Khumjung houses a purported Yeti scalp. This village has modern communications such as internet and mobile and landline phones.
Kunde Hospital has serves 8,000 people from Khumbu district. It is situated 3,840 metres above sea level and was founded by Sir Edmund Hillary in 1966. The hospital was funded and operated by The Himalayan Trust until 1976 and is now supported by the Sir Edmund Hillary Foundation. The resort is located just above the traditional village in an idyllic location. From here you can enjoy the panoramic views of the village and its soothing landscapes.
An extra day is ideally required to acclimatize, visit the Khunde Hospital and learn about the ethnic Sherpa Culture once you reach Namche.